Iowa Attacks Public Sector Unions
During this past election cycle Republicans gained control over all levels of state government in the state of Iowa. In a disturbing trend of Midwestern states, Iowa's legislature has made moves to attack the working people of its state. A package of reforms was recently laid out that directly attacks the collective bargaining rights of public employee unions.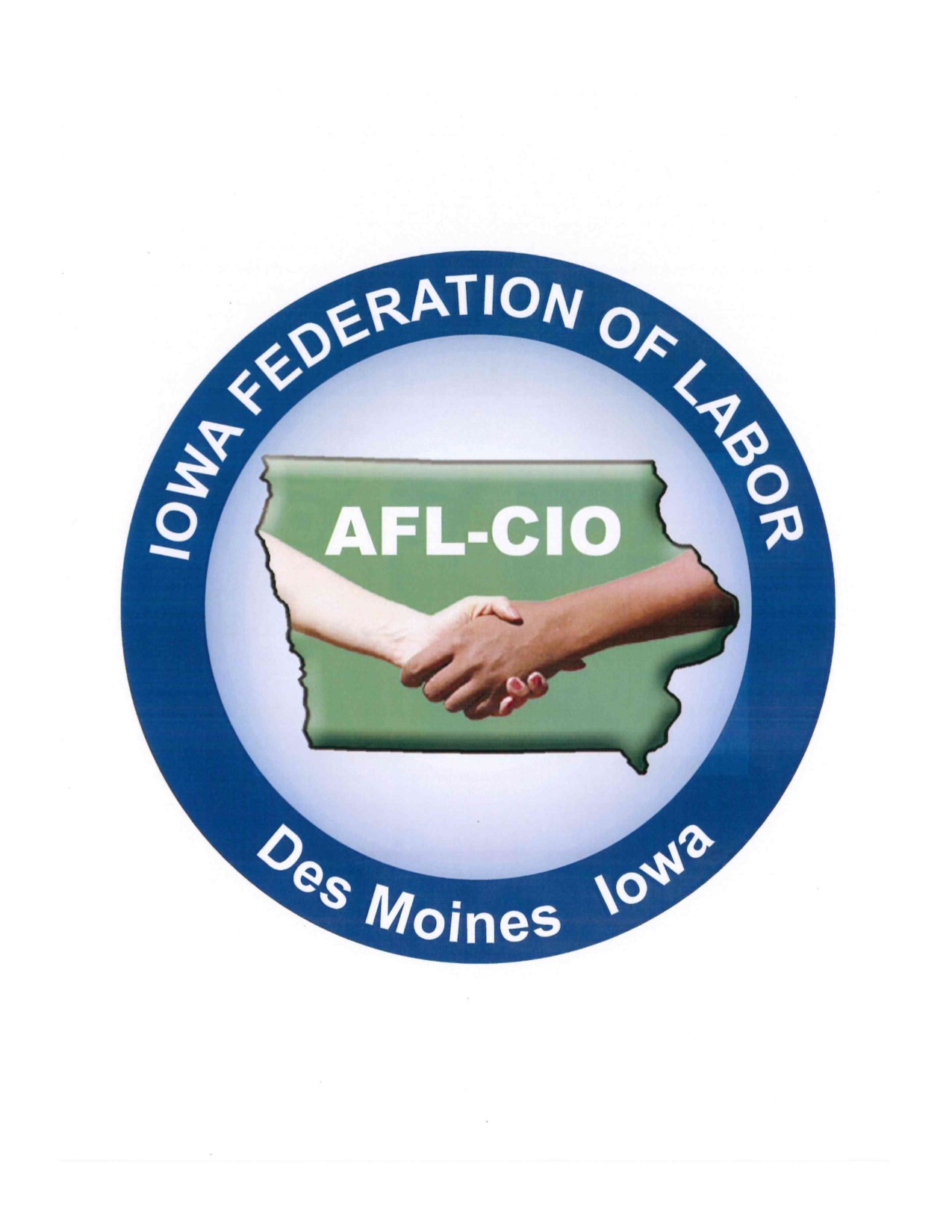 These reforms include measures to ban state offices from automatically deducting union dues from employee paychecks and limiting contract negotiations. The most disturbing part of the legislation would require union members to re-certify their unions each time a new contract comes up for negotiation. As part of this language in order for the union to re-certify its membership would have to successfully pass a majority vote. This is not only those present to cast ballots, but the entire membership. Iowa's own Public Employee Relations Board is also weighing the decision for forcing the labor unions to finance these re-certification elections.

Charlie Wishman, the leader of the Iowa Federation of Labor, made the statement of, "This is the playbook, and it's being rolled out all across the Midwest. As soon as Republicans have the opportunity, they move very quickly on these items." Wishman and other supporters of labor feel that more frequent re-certification votes will put their ability to represent their 185,000 workers at risk. Wishman went on to say, "Every bargaining unit has to be rectified at least once every five years. The bar is set very high for re-certification."

Behind the Republican movement in Iowa to attack public sector unions is Americans for Prosperity. The conservative group is founded by Charles and David Koch. The Koch Brothers are massive contributors to the Republican Party and are very outspoken supporters of anti-union activity.

Similar measures have already been passed in Michigan, Ohio, Kentucky, and Missouri.

Letters and calls of support can be sent to the Iowa Federation of Labor at:

2000 Walker Street
Des Moines, IA 50317
---
Auto Mechanics' Local 701 Strike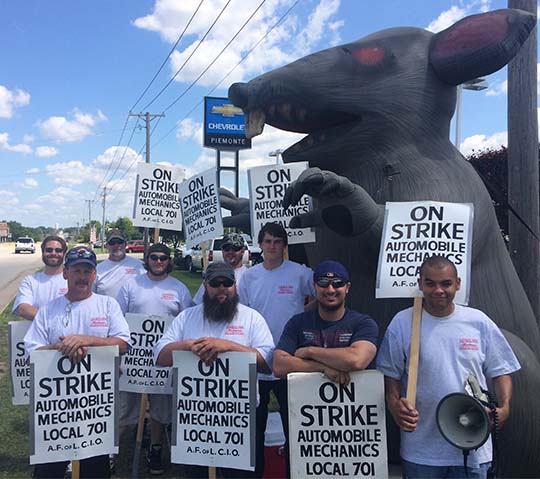 At midnight on July 31, over 1,700 union auto mechanics across the Chicago area went on strike.This strike affects over 130 dealerships in the area. Members of Local 701 voted 1,221 to 169 to strike the New Car Dealer Committee (NCDC) after reviewing the dealerships' "final offer" on Sunday.

Sam Cicinelli, Local 701's Directing Business Representative stated, "We provided the dealer association with a comprehensive and realistic proposal.We fix things – that's what we do for a living.We're trying to fix this industry.Apparently, the NCDC feels much differently. Their greed continues to drive our industry in a downward spiral circling the bowl.That's not what our members want.So together they made a decision to stand up and fight."

Points of contention of the local union are:
Uncompensated time.Mechanics end up working at their own expense due to the factory reducing repair times.Workers are spending upwards of 6 hours a week working uncompensated.
Flex work work.Workers seek a regular 40 hour standard shift work week.
Extended apprenticeship of 8 years.
Increased healthcare costs.
Draconian pay structure. The low pay structure is prohibiting the union from attracting young, aspiring mechanics.
"The unattractive pay rates coupled with stagnation within each entry level classification restricts the trade's ability to provide for an attractive long-term profession," said Cicinelli. "With the industry headed in this direction, who will fix the cars and trucks in our future?"

The previous contract between the local and the NCDC expired at midnight on July 31. The previous two contracts were conessionary. The technicians conceded on several monetary issues given the dealerships' economic circumstances at the time. Job preservation was the primary focus for the past two contracts. Since then, however, the auto industry has boomed. Cicinelli adds, "Our technicians are simply looking for a fair share of the industry growth."

IAM Midwest Territory General Vice President Phillip J. Gruber spoke on the strike. "Our members have spoken.The message to the Chicago dealership association is 'no more.' This offer currently on the table is a slap in the face to this union and our members who have worked their behinds off in helping this industry stay afloat. Now, when profits are back up, they want to turn their backs on the very men and women who helped drive up that bottom line? No more. The IAM stands ready to sit down at the bargaining table day or night.However, the proposal in its current state is not going to work. Union automotive technicians are highly-skilled and highly-trained – the best of the best in the industry. For that, they should be paid and treated fairly.If the NCDC wants a fight, then a fight they will get."

The NCDC is the negotiating body on behalf of the Chicago Automobile Trade Association. We urge our membership to send letters condemning the business practices of the CATA by writing them at:
Chicago Automobile Trade Association
18W200 Butterfield Rd.
Oakbrook Terrace, IL 60181

We also urge all members to send letters of support to Local 701 at:
Automobile Mechanics' Local 701
450 Gundersen Dr.
Carol Stream, IL 60188
---
CEO Pay is Up 937% Since 1978
A recent study conducted by the Economic Policy Institute shows that the CEOs of America's largest firms have had their pay raise 937% from 1978 to 2016. In the same time period, the workers in these companies have only seen their pay rise 11.2%.
Those numbers broken down indicate that the leaders of companies have received an almost 25% increase in compensation each year. Workers of the same companies received only 0.3% of increases each year. Even more staggering is that these CEOs made an average of $15,600,000 in yearly compensation. That is 271 times the annual average pay of the workers in those companies.
The report notes that, "While the 2016 CEO-to-worker compensation ratio of 271-to-1 is down from 299-to-1 in 2014 and 286-to-1 in 2015, it is still light years beyond the 20-to-1 ratio in 1965 and the 59-to-1 ratio in 1989."
EPI contacted three economists in March to analyze the data that their study provided. They were Thomas Piketty, Emmanuel Saez, and Gabriel Zucman. They wrote, "For the 117 million U. S. adults in the bottom half of the income distribution, growth has been non-existent for a generation, while at the top of the ladder it has been extraordinarily strong."
The data provided in the study shows just another example that the economic disparity in America is the worst it has ever been. Wealth is still being generated by industry in our country, it is just no longer being distributed in wages and benefits to the workers that generate it. For example,Jeff Immlet, the CEO of GE, earned $34,250,000 in 2014. In that same year, GE employed 136,000 workers. Had Immlet only been paid the lavish CEO average of $15,600,000, $18,650,000 would have been left over to be put into those 136,000 workers' wages or benefit packages. Instead, GE laid 11,000 workers off by the first quarter of 2015.
Despite claiming financial hardship as reason for the layoffs, research of GE corporate records shows that the company distributed $50,000,000,000 in profits to its shareholders for the fiscal year of 2014.
Notwithstanding this mass wealth generated by American companies, the current unemployment rate in the United States rests around 7,000,000 workers. That number is suggestive in that it doesn't indicate the number of those that have lost access to unemployment insurance or benefits.
Economists and government agencies also estimate that state and federal government programs spend $60,000,000,000 annually in welfare and aid programs. Of those receiving aid, 70% are employed full time.
---
ALP is Looking for a Membership Director
The American Labor Party is looking for a Membership Director. This position is an appointed position managed by the General Secretary-Treasurer. This, like all other party positions, is a volunteer position. The position is responsible for the following:
Recruiting of new members via social media, websites, email, and conventional means
Organizing membership drives and managing membership events
Management of a membership budget
Must have a personal drive to succeed and a dedication to the cause
If you are interested in this position, please contact General Secretary-Treasurer Drake at braddrake9@gmail.com.

---
W- VA: $45 Billion for Infrastructure

On the same day that CNBC announced West Virginia as the state with the seventh worst crumbling infrastructure, it was announced that the state would receive $45,000,000,000 in federal funds for infrastructure. Representative Evan Jenkins (R) made the announcement saying that his work on the House Appropriations Committee helped secure the funding. This funding comes from the FAST Act, a five-year bill to re-invest in West Virginia's infrastructure.

Jenkins stated, "We have so many infrastructure needs across West Virginia, and this will provide important funding to help us rebuild our roads, repair our bridges, and construct new highways. It will be up to the governor and legislators in Charleston to decide how to prioritize this funding, and I will continue to urge them to invest in West Virginia's long-promised projects like the King Coal Highway and Coalfields Expressway."
Mike Mitchem, executive director of the King Coal High Way Authority was quoted as saying that it was good news and that, "We could benefit from that money." He said that he will be talking to legislators about how the $45,000,000,000 will be spent.

---
The Senate Seeks Infrastructure Ideas

The Senate Environment and Public Works committee is seeking infrastructure ideas from its members. The ideas are due from committee members to Chairman John Barrasso on Friday, July 21. The committee's ranking Democrat, Senator Tom Carper and Barrasso, have made a joint request for "infrastructure priorities, policy proposals, and recommendations." The intent is for the committee to produce a "comprehensive infrastructure bill."

The American Labor Party encourages all members to contact members of the committee with legit infrastructure ideas. Remember, U. S. senators will not take your emails, phone calls, or letters unless you are one of their constituents.

An infrastructure bill could produce millions of jobs for Americans over the next few decades. Please take the time to contact your senator on the committee before Friday, July 21.

John Barrasso, Wyoming, Chairman
Jim Inhofe, Oklahoma
Shelley Moore Capito, West Virginia
John Boozman, Arkansas
Roger Wicker, Mississippi
Deb Fischer, Nebraska
Jerry Moran, Kansas
Mike Rounds, South Dakota
Joni Ernst, Iowa
Richard Shelby, Alabama
Dan Sullivan, Alaska

Tom Carper, Delaware, Ranking Member
Ben Cardin, Maryland
Bernie Sanders, Vermont
Sheldon Whitehouse, Rhode Island
Jeff Merkley, Oregon
Kirsten Gillibrand, New York
Cory Booker, New Jersey
Ed Markey, Massachusetts
Tammy Duckworth, Illinois
Kamala Harris, California
---
Privatization of Air Traffic Control Vote Next Week

Next week the House of Representatives will vote on privatizing air traffic control. This bill is known as 21st Century AIRR Act (H.R. 2997). The bill passed through committee on June 27.
The bill would give control of air traffic to individual airlines instead of being overseen by a trained government agency. AOPA and four other aviation associations oppose the bill and released a joint statement on June 21 condemning the potential legislation and its expected disastrous effects on American aviation.
AOPA President and CEO Mark Baker was quoted saying, "American aviation is the envy of the world and general aviation is united in opposition to privatization and what it would do." He also added, "We support modernization not privatization, and in the next 24 hours we'll be asking our almost 350,000 members to write their representatives in the House and join us in opposing the AIRR Act."
The American Labor Party strongly opposes this bill and implores all members to write their representatives and instruct them to vote AGAINST this potential legislation. You may find your U. S. Representative by clicking on Find Your Reps on our menu. Bad legislation such as this bill to privatize public assets are designed to enhance the fortunes of private companies. Putting profits before safety will bring avoidable potential danger to Americans.

---
Teamsters Local No. 812 Win Strike!

The Teamster brothers and sisters that have been out on strike from Clare Rose for 82 days tentatively reached a contract on Thursday, 7/13. The agreement initially states that the pensions of the workers will not be disturbed and contributions will continue. The American Labor Party has been covering this strike with attention since late June.

The July Blue Flag featured an article on the strike and instructions on how members could help the Teamsters in their fight. There were also instructions here on our website. This is a big win for working people in our country! Details on the issue can be read by clicking here.
---
NAFTA to be Renegotiated

On July 17 the fate of NAFTA will be released as the U. S. will release its objectives for renegotiating the trade deal. The U. S. Trade Representative will publish the goals for the trade deal on his website at www.ustr.gov. According to a study conducted by the Economic Policy Institute, the United States has lost 415,000 high paying manufacturing jobs to Mexico alone. The U. S. also carries a $60,000,000,000 trade deficit with Mexico. NAFTA has been another opportunity for U. S. businesses to exploit labor and drive up profit while hardworking Americans' lives have been ruined.
As American workers, we cannot let further damage be done to our country. Now is the chance to let your voice be heard and to let our president know that we want the end of free trade. We want the end of NAFTA. Contact the president today by writing him at:
President Trump
The White House
1600 Pennsylvania Ave. NW
Washington, D. C. 20500
You can also email the president by following the instructions on www.whitehouse.gov.

---
Ironworker For U. S. Congress

Ironworkers Local 8 and Milwaukee Area Labor Council member Randy Bryce has announced that he will be running against Paul Ryan in the upcoming election. Bryce has announced he will run as a Democrat to try and unseat the Republican incumbent and current Speaker of the House.

Watch his video below and please consider donating to his campaign by going to or clicking: https://randybryceforcongress.com/donate

---
Local 701 Settles With Shore Point

The American Labor Party learned on July 5 that this past June 18, Teamsters Local 701 reached an agreement with Shore Point Distributing. 110 workers returned to work the following Monday.
The workers will receive a $0.50 hourly wage increase for each of the next three years. Also negotiated was a union health plan that would have locked in rates for the life of the contract.
The workers did, however, enter into an agreement that will transition their pension plan into a 401k plan. The union states that the new pension plan will be heavily funded by Shore Point Distribution. Congratulations to Teamsters Local No. 701 on winning this three year contract!

---
Boycott Anheuser-Busch!
Teamsters Local 812 has established a boycott of Anheuser-Busch products on Long Island. Local 812 workers are on strike since April with distributor Clare Rose. The strike was caused by Clare Rose's attempts to cut drivers' wages by 30% and to end their pension. Local 812 is asking for the boycott against Anheuser-Busch because of that company's choice to ignore the abuse endured by drivers of Clare Rose, Inc. The 4
th
of July weekend is the biggest sales week of the year on Long Island.
The American Labor Party endorses this boycott and supports Teamsters Local 812. We have decided to enact a permanent boycott of our own against Anheuser-Busch until Local 812 is given a fair contract by Clare Rose. Wherever you are in
the country, let Anheuser-Busch feel pressure by refusing to purchase or consume its products. We have written on behalf of the party, but we also ask all members to write letters to Teamsters Local 812 to show your support in this time of need. We also encourage you to write Clare Rose and condemn their business practice.

Send letters of complaint to Clare Rose at:
Clare Rose, Inc.
100 Rose Executive Blvd.
East Yaphank, NY 11967
(630) 475-1840

Send letters of support to Local 812 at:
Teamsters Local Union No. 812
445 Northern Blvd.
Great Neck, NY 11021
(516) 303-1455
---
Why Right to Work is Wrong - Explained
Are you not certain exactly what Right to Work is and the dangers is presents to the every day American worker? Please watch the video below to learn about why this type of legislation must be stopped at the local, state, and national levels.

---
No Free Trade!
One of the primary goals of the American Labor Party is to end free trade. Our unfair trade deals are strictly for the benefit of the corporation seeking manufacturing overseas. Millions of Americans have lost their jobs to job outsourcing.
---